PotsdamFire.org
News Ticker
2019 Incidents
January
47
February
45
March
40
April
37
May
41
June
35
July
62
August
36
September
62
October
0
November
0
December
0
Total
405
2018 Incidents
January
65
February
36
March
29
April
81
May
62
June
31
July
47
August
47
September
60
October
68
November
53
December
32
Total
611
2017 Incidents
January
30
February
44
March
53
April
53
May
46
June
53
July
60
August
50
September
62
October
54
November
53
December
38
Total
596
2016 Incidents
January
34
February
61
March
34
April
48
May
40
June
34
July
44
August
51
September
55
October
54
November
34
December
43
Total
532
2015 Incidents
January
40
February
54
March
33
April
48
May
53
June
32
July
49
August
55
September
39
October
44
November
44
December
47
Total
538
2014 Incidents
January
46
February
41
March
31
April
48
May
38
June
41
July
57
August
40
September
43
October
65
November
40
December
33
Total
523
Previous Incidents
2004
383
2005
360
2006
438
2007
419
2008
505
2009
518
2010
550
2011
524
2012
549
2013
534
2014
523
2015
538
2016
532
2017
596
2018
611
Potsdam In Pictures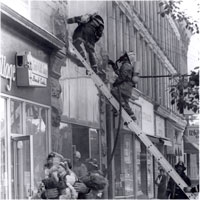 Donation from Potsdam Save-A-Lot
By Firefighter Mark Maroney
April 25, 2019
Potsdam Fire recently received a donation from the Potsdam Save-A-Lot of 10 cases of bottled water to ensure our firefighters stay hydrated during the summer months.
Thank you Save-A-Lot.
Mayette
April 30, 2019 at 9:51 AM
I think that was very generous of them. What a wonderful idea
Connie Capone
May 04, 2019 at 7:53 AM
Save-A-Lot has always been good to many organizations and Potsdam Fire Dept. is so deserving of their act of kindness.